Video: Commencement Joy & Traditions
Tomorrow, we'll begin to celebrate two days of commencement ceremonies for our graduating class of fall 2022. Commencement is one of the most joyful times in the life of our university. In the December episode of "The Current," I spoke with Dr. Valarie Fleming and Dan Schumacher about how profound our graduation traditions are for our graduates, their loved ones, and for Bobcat alumni everywhere.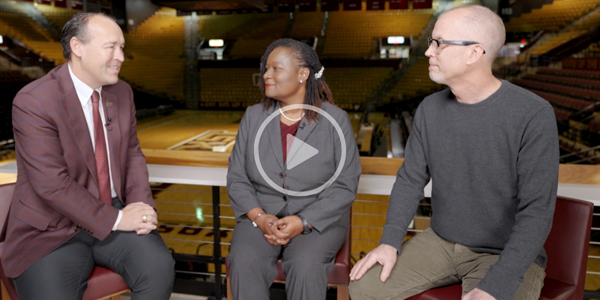 My Top Ten Moments
There is never a dull moment at TXST, especially in December, with the holiday break quickly approaching, commencement this weekend, and holiday traditions brightening our days. Check out my Top Ten Moments for highlights of my favorite recent experiences, from serving a midnight breakfast to students, and marking the 50th anniversary of our College of Health Professions, to ringing in the season with our Bobcat community.


NEXT Up: Benjamin Swann
In the latest NEXT Up video, meet Benjamin Swann, a senior in the Ingram School of Engineering. Benjamin and a team of engineering students worked on a Fire-Bot, a rover designed for firefighters to deploy into burning buildings to identify danger zones, detect people inside, and make it safer for first responders to lead search and rescue efforts. Ben is adding a depth camera and creating programs to help the robot function autonomously. The project was featured during the Ingram School of Engineering Senior Design Day.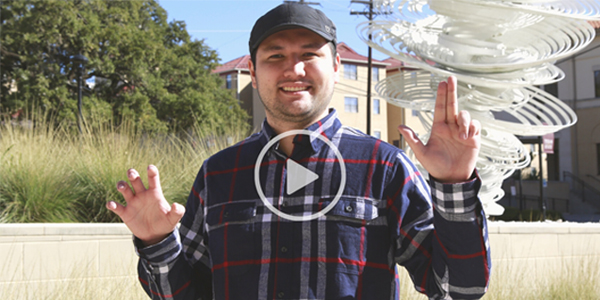 Mission Moment: Our "Hopes and Aspirations High"
As we wind down 2022, I am grateful for the progress we've made in advancing TXST toward achieving our ambitious goals. This fall, we formed numerous presidential commissions and task forces to take a strategic and proactive approach to tackle the challenges we face and leverage areas of vast potential. I'd like to thank the faculty and staff leading this charge with great dedication and creativity. Through these and other collaborative efforts, we will implement several improvements and new initiatives quickly. In January, I'll share a detailed update about the progress we've made, and how the recommendations from these groups align with our bigger-picture vision for the future of our dynamic university. I'm energized and optimistic as we turn our attention to implementing their recommendations to achieve our hopes and aspirations together in 2023.

This new year will usher in exciting changes for our Round Rock Campus (RRC), which has tremendous potential for growth. Establishing a RRC leadership structure is essential for us to move the campus forward. This spring we will launch a nation-wide search for a Vice President for Operations and Community Engagement for our RRC. I convened a work group to help establish the organizational structure needed to prepare the RRC for the opportunities ahead. I'll share more about these initiatives in my January update.
Beth and I wish you and your loved ones the happiest of holidays. Thank you for making our Bobcat community so special.
Sincerely,
Kelly Damphousse
President